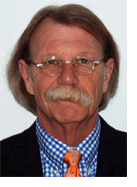 For those of you who have been living under a rock, there has been some REALLY exciting progress over the last few years in the area of DS research.  Who better to tell us about it than the Chief Scientific Officer of the LuMind Foundation (formerly DSRTF)?  That's right, Dr. Michael Harpold joins us on this episode and tells us all about it.
Some quick background:
DS does not get a lot of research funding (on a per case basis).
DS issues similar to Alzheimer's.
They were able to breed mice with DS so they could do 'mouse models.'
They developed a cognitive standardized test to use in clinical trials to quantify any improvements.
There are ongoing clinical trials for new drugs to improve cognition in individuals with DS
Signing up for DS Connect will help them.  It is safe, quick and easy.  Go do that now…
In other words, it is likely that some sort of drug therapy will be available for our loved ones with DS within the next 5-15 years!  This is amazing and wonderful to me and I am grateful for the folks at LuMind (like Dr. Harphold) who are making it happen.  Cautious optimism seemed to be the appropriate phrase…
Tune in and let us tell you all about it.  No need to take notes, it is all very nicely laid out on their web page:
Take note they are having 1:1 match during their annual appeal.  Even if you aren't in a position to give a personal gift, go ahead and discuss supporting LuMind with your local DS Association.
Go and check out their website.  Register – it is quick and easy, we promise.  Oh and while you are in a good mood, go to iTunes and look us up.  Click subscribe and give us a good review.
Thanks,
Mark
Download Down Syndrome Radio, Episode #30.