Believe it or not, we actually felt qualified to take this one on ourselves!  Between us we have SIX children successfully trained!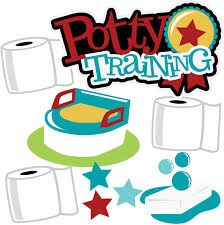 First things first – We know how lucky we are that our three children with Down syndrome took to the training fairly early.  We realize the huge range of skills, capabilities and challenges that face children with DS.  If it takes longer – Please don't give up!  Our experiences may not be typical!   We just hope that some of the information in this episode is helpful or at least entertaining…
You really should listen to the episode.  It was a LOT of fun.  But if you want the cheat sheet, here are some important bullet points…
Have someone to observe.  If you don't have an 'older sibling' (minion) to send in with your child, you should go in there yourself.  They need to 'see how it is done!'
It can be helpful to collect data on their schedule (what times of day they are commonly wet/dry) before starting.
Make the bathroom a fun place.  You will be spending quality time in there.
Readiness is important.  They need to be motivated, capable of communicating the 'need' (signs are fine), and be able to control the urge for the 20 secs it takes to get them to the pot.
It can be helpful to do it 'boot camp' fashion where you set aside a weekend at home, keep them in underwear all weekend, and make them drink lots of water.
Positive reinforcement is key.  When they finally hit it, make a super fuss about it!  Prizes, special underwear, etc. fit in well here.
School can be a huge motivator.  This is part of the inclusion setup where your child learns from peers.  For late learners – don't give up, success will be a huge boost to your child's self esteem!
There was a lot more.  Like I said, we had a blast recording this.
Please visit 321foundation.com to see what Rick's new organization is up to.  (hint – a lot!)
If you like what you hear, like us on Facebook or give us a good review on iTunes.  Don't forget to subscribe!
Thanks,
Mark
Download Down Syndrome Radio, Episode #29.