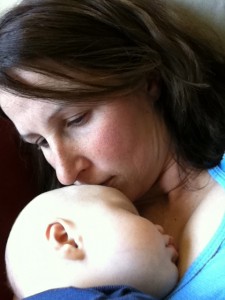 I'm on a plane again. Skywriting seems to have become a pattern in my posts. From my 2.5' x 2.5' box seat I think about all the posts I've wanted to write yet haven't typed out. I think today's post will be one I've put off for too long, but really want to share.
I was a shadow of myself after Dexter was born. I was frightened and quite honestly in a state of significant shock. In the hospital I wished for a pain greater than the one in my heart. I've only felt hurt like this once when I lost a good friend way too early and unexpectedly.
Comparing my son's birth to a death always makes me feel incredibly guilty – because I feel like I was the first person to marginalize his worth – even if it was unintentional. My grief was for the loss of what I thought would be, the child I fully expected to have but didn't. Unfortunately that sorrow and disappointment kept me in blinders and I couldn't see how things would be okay.
People told me it would be okay. I got angry. You can't say that I thought, you don't know. People told me I was chosen because I was special or strong. I got confused. That's not logical, I reasoned. Folks talk about people they met like my son and how happy they always seemed. I was frightened. I don't even know my son yet – how can you?
Let me be clear. All the things that were said were done so with love and good intention. Nobody meant to hurt me and I felt so guilty and ungrateful for being upset. The thing is sometimes what you think is the right thing to say just isn't, no matter how good your intentions may be. I can say this because I have said a lot of wrong things in my life with the intention of comforting a friend and knew deep down that I wasn't helping.
With in a short time I started to have conversation anxiety. I wanted to protect myself from words I didn't want to hear and avoid feeling ungrateful. I started to avoid people, friends and family altogether. And then a very good friend called. My withdrawn self thought twice about answering. Dexter was sunbathing in his Moses basket and I was determined to stop my consecutive crying. Luckily for me I did eventually answer. And when I did the words on the other line were powerful and freeing.
I am going to say the wrong thing, she said. Tell me what I shouldn't say.
And I did. Without a tear. Comfortably.