Dr. Vellody is the Medical Director of the Down Syndrome Center at the Children's Hospital of Pittsburgh. This guy REALLY understands the medical issues faced by our children!
Because the center that he directs is specialized, he sees an incredible amount of patients with Ds.  This centralized experience is invaluable in correctly diagnosing and treating our wonderful children.  To further brag about our guest, he is incredibly personable and easy to talk with.  He explains the medical science behind several issues during the episode in a very clear and concise manner.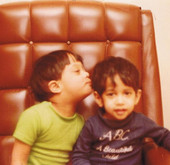 Dr. Vellody has a brother with Ds and a wonderful family with four children!  If you ever wondered what was going on in the picture (at right), it is little Kishore and his brother.  I think the chair was later used for the set of the Brady Bunch.
During the episode we discuss the following medical issues:
Heart Surgery – How to choose the right hospital/staff
The common cold for those with smaller nasal passages
Sleep Apnea – Sleep studies are important!  This can have chronic affects if left untreated.
The neck instability thing (Atlantoaxial Instability) – We learned a lot about this

It is much rarer than I thought (a few in a thousand)
They do x-rays to diagnose it but an x-ray is a poor tool
There are symptoms to look for – Dr. Vellody can spot them
Don't worry about it so much, but don't drop your kid on his head if you can help it.
DS Medical Registry
Health Supervision for Children with DS – Apparently our kids did come with instructions!
Dr. Vellody has also started his own podcast to share his medical knowledge (which is how we found him!).  Have you ever left a doctor's appointment and said to yourself – 'I just hope I could remember everything he said'?  Wouldn't it be cool if you could just go to his podcast and hear it all again while you were at the gym or driving in your car?  Well that all possible now.  Here is the link to his podcast in iTunes.  And here is the link to his web page (Children's Hospital of Pittsburgh).
Thanks for listening!  Remember to go to iTunes and give us a great review and subscribe.  You can also leave us comments on this site!  Have a wonderful DS Awareness Month and a great time at your local Buddy Walk/Step Up event!
~Down Right Awesome Dads
Download Down Syndrome Radio, Episode #23.
Better yet…subscribe, rate us and leave a comment on iTunes!