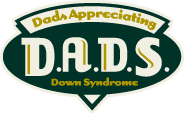 A national organization comprised of dads dedicated to supporting the fathers and families of children with Down syndrome?  Heck, it's even named D.A.D.S!  Sounds like a perfect match for our humble podcast about DS from a dad's perspective!
In just over 10 years, Dads Appreciating Down Syndrome (D.A.D.S.) has grown from a group of eight fathers in Indianapolis, IN to an organization with over 50 chapters throughout the country.  Much of that amazing growth can be attributed to the personality and drive of its founder, Joe Meares.  We are very pleased to welcome Joe to Down Syndrome Radio.  Joe tells us about his Down Right Awesome daughter, Peyton, and gives us the lowdown on D.A.D.S.
An amazing young man named Andrew Banar is the subject of our great story this week.  Andrew is the owner of Group Hug Apparel, a website that sells clothing that sports his cool designs.  Check out his site, buy some gear and "Be Strong, Rock On!"
Download Down Syndrome Radio, Episode #5.