In the first few installments of this humble podcast, we found ourselves continuously visiting one site for ideas for our "great/amazing/inspirational story" segment.  Down Syndrome Daily is an excellent resource for the Down syndrome community and we are very excited to speak with the man behind the site.
Rick Kosmalski has been collecting relevant stories from around the web and compiling them on Down Syndrome Daily since early 2011, making it a one-stop shop for all things DS.  We talk with Rick about DSD, his lovely daughter Kayla and a host of other topics – his baby-on-the-way, school, gluten, croup….whoa!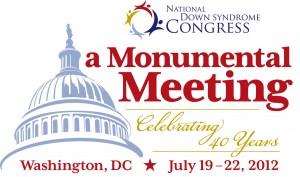 Rick just so happens to be a veteran of our second topic, the NDSC Annual Convention, which takes place this week in Washington, DC.  We talk about what to expect at the convention, the excellent speakers and the fun events.  Mark and Rick will both be at the "world's largest family reunion" – be sure to say hello!  If you are not going to the convention, you can virtually attend from the comfort of your home with the new live stream option.
We are also very pleased to announce that Rick will be a regular contributor to the podcast, chiming in with a great story for each episode.  This week Rick tells us about John C. Malone's very generous donation to the Global Down Syndrome Foundation.
Download Down Syndrome Radio, Episode #6.
Better yet…subscribe, rate us and leave a comment on iTunes!